Interface: NDOT Freeway Service Patrol Vehicles - NDOT District 1 EOC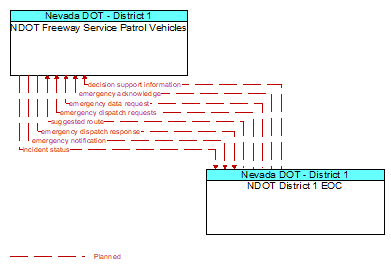 Architecture Flow Definitions
decision support information (Planned) Applicable ITS Standards
Information provided to support effective and safe incident response, including local traffic, road, and weather conditions, hazardous material information, and the current status of resources (including vehicles, other equipment, supplies) that have been allocated to an incident.
emergency acknowledge (Planned) Applicable ITS Standards
Acknowledge request for emergency assistance and provide additional details regarding actions and verification requirements.
emergency data request (Planned) Applicable ITS Standards
A request for additional information or a control command issued by the emergency response agency in response to an emergency request for assistance from a traveler.
emergency dispatch requests (Planned) Applicable ITS Standards
Emergency vehicle dispatch instructions including incident location and available information concerning the incident.
emergency dispatch response (Planned) Applicable ITS Standards
Request for additional emergency dispatch information and provision of en route status.
emergency notification (Planned) Applicable ITS Standards
An emergency request for assistance that is automatically initiated by a vehicle or manually initiated by a vehicle occupant. The request includes call–back number, date, time, location, pre–event vehicle heading, vehicle make, model, model year, and fuel type, and crash severity indicators. Crash severity indicators include: airbags deployed, number of impacts, crash delta velocity, principle direction of force, and rollover indication. In addition, seatbelt restraint use, number of occupants, occupant location, and intrusion may be included. For commercial vehicles, this flow may also include freight equipment type (box, flatbed, trailer, container, etc.), type of cargo (refrigerated, non–perishable, liquid, etc.), hazardous material data, quantity of cargo, and cargo permits as applicable (hazmat, special routing permissions).
incident status (Planned) Applicable ITS Standards
Information gathered at the incident site that more completely characterizes the incident and provides current incident response status. This includes notification of medical facility transport and details about the vehicle occupants being transported.
suggested route (Planned) Applicable ITS Standards
Suggested route for a dispatched emergency or maintenance vehicle that may reflect current network conditions and the additional routing options available to en route emergency or maintenance vehicles that are not available to the general public.